(
Read more
Collapse
)
**EDIT** I almost forgot to mention: is that Taboo and Apl.De.Ap from the Black Eyed Peas sitting behind in the first second of the video?
Because if that is, then AWESOME!! Yet, even if GACKT-san does decide to crossover to the U.S., I can't imagine a collaboration between them.
Actually, let me rephrase that: I can't imagine GACKT-san doing hip-hop. /(>_<)\
http://bit.ly/aBhGoG
My reaction (and hopefully the reaction of the entire fan community of GACKT-san) to the news, as well as to Sheehy's manner of announcing it: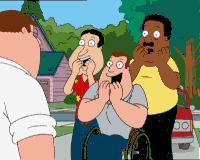 *borrowed from apryls81*
Seriously though, I am excited to be able to experience this glorious new stage in GACKT-san's career (AnimeCrazy.net will get hold of this anime, right?). I know he will blow us away with his incredible acting talent!
(
Read more
Collapse
)
Hmm. . . I just realized that the "pinky stroke" would make a good gif. . .
Too bad I don't know how to do those things. T_T
(
Read more
Collapse
)
P.S. I am happy to see the many positive comments on the Chubaw translation that the lovely
nataliapessoa
and I collaborated on! I'm really impressed at how well she posted the entire thing!
Thanks to Naty, I was able to share my 2nd favorite TV appearance of GACKT-san with all of the other fans! It's great when you finally know what everyone's laughing about, right? lol!
While I did have fun doing this, I'm not sure if Naty or I will be doing this often. But the next time there is a clip of GACKT-san only available in Portuguese subs, you know which duo to refer to now! haha!